Sad to hear of the death of Freddie Roulette, the legendary African American blues steel guitarist. What a unique cat Freddie was. His style was completely unique and hard to describe. His playing style was honestly just an extension of his unique (you might say strange) personality coming through his hands. He had some real history: he played with Earl Hooker's band in the 1960s, appeared as a session man on a quite a few blues and soul records in the 1960s and 1970s (including some real scorchers like "Shotgun Rider" by Bo Dudley—yes, Bo Dudley, not Bo Diddley, and yes I got to back up Bo Dudley and Freddie once at the Ponderosa Stomp), and made a handful of groundbreaking blues-steel albums in the 1980s, 1990s, and 2000s.
I played with Freddie a bunch of times, both at the Ponderosa Stomp and my own Guitar Geek Festival in Anaheim. He was great! But he was also hilariously odd. He flew into John Wayne Airport and was supposed to take a shuttle bus to the hotel. Some fans who flew into the airport that were coming to the festival saw Freddie wandering around the airport, seemingly lost. They approached him and asked if he was Freddie Roulette, when he responded that he was, they gave him a ride directly to the festival. I had a hotel room for him, but he pretty much stayed in the ballroom the whole time, watching all the acts. When it was time for him to play, I had to go search him out, "Hey Freddie, you're up now!" It was as if he had no idea when he was supposed to play, even though the schedule had been posted everywhere and I told him several times when he was to appear. When I told him he was up, he grabbed his steel guitar and hit the stage. No rehearsal, no song lists, he just called songs out as he felt like it—and completely kicked ass!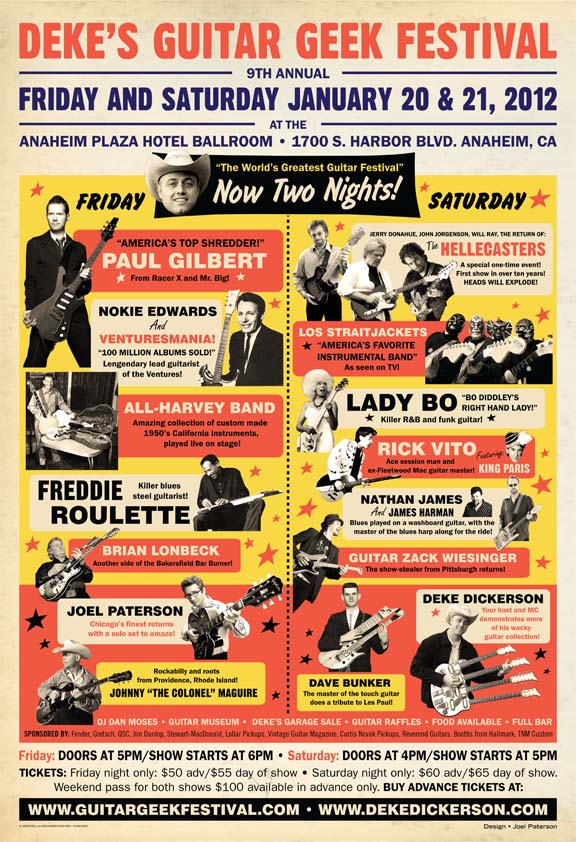 His playing was wildly evocative, almost like a wail, or a scream. It was coming out of him, through an old National lap steel. I don't think I've ever seen anybody play his instrument like Freddie. He was incredible to watch.
We had him play a second set on the second day of the festival when Lady Bo cancelled, and he kicked just as much ass the second day. He was great. I paid him for the gig and told him how to get to the airport in the morning. I wasn't real confident about the situation. I called him at his house a few days later; he made it back okay.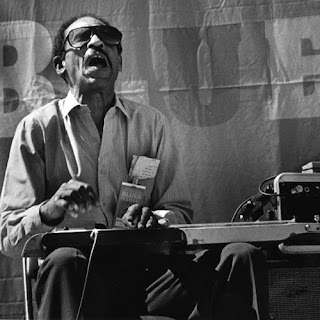 A few years ago, I heard that Freddie's house (he lived in Oakland) burned down with his steel guitar in it. I wondered what was going to happen to him. Just like he did getting home from the Guitar Geek Festival, somehow Freddie soldiered on, until yesterday. He was an odd cat with a particular skill. I mourn his loss, because they aren't making any more like Freddie Roulette. They really broke the mold when they made him. Check the comments for some videos where you can hear his unique style of playing. RIP Freddie!