Deke Dickerson has devoted his long career to keeping America's roots music alive while interjecting new creativity into genres of music that flourished in decades previous. Dickerson is 52 years old and has been carrying the torch since he was 13, playing in his first rockabilly band in his hometown of Columbia, Missouri. He moved to Los Angeles at the age of 22 and proceeded to found his primary band, Deke Dickerson and the Ecco-Fonics, his newest group, Deke Dickerson and the Whippersnappers, as well as several side projects.
Dickerson has provided rootsy music for a slew of television shows and movie projects, including scoring the music for a Paramount Pictures film starring Johnny Knoxville, Action Point.
Dickerson has his own signature guitar, manufactured by the Hallmark Guitar Company of Maryland.
Dickerson is currently writing the official biography of guitar legend Merle Travis. He also writes for several guitar magazines and had two books published by Voyageur Press, The Strat in the Attic and The Strat in the Attic 2. Dickerson is well known as a historian of roots music and regularly contributes liner notes to reissue projects for such labels as Capitol, RCA, Bear Family, and Sundazed.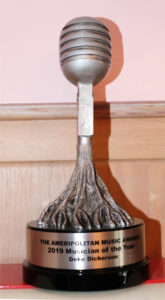 In 2019 Dickerson won the Ameripolitan Music Award for Musician of the Year! PKM interviewed him afterward about his many contributions to the genre.
Two of Dickerson's songs are featured in the newest Disneyland ride, Cars Land, at Disney's California Adventure theme park.
He is booked to play festivals, club shows, and tours throughout the United States, Canada, and Europe in 2021 and 2022.
GEAR
Deke Dickerson uses Jim Dunlop strings and picks exclusively!
In 2018, Deke and Bob Shade of Hallmark released the model 2 Deke Dickerson Hallmark Guitar! This limited edition has sold out, but stay tuned for news on future production runs.
The guitar features:
Gold sparkle finish (just like Deke's Golden Guitar—no other colors available!)
Glued-in neck
German-carve body with top binding
Maphis-tone pickups
Adjustable roller bridge
Shade vibrato
Scale length: 24 1/2 in.
Width at nut: 1 5/8 in.
Weight: Between 8 and 8.5 lbs
Alligator case with Deke logo