Deke Dickerson's Photo Archive: Scotty Broyles
Scotty Broyles was a Texas-born mandolin player who was in the Navy, stationed in San Diego, in the early 1950s. During this time he began shooting color slides of everything from nature scenes to country music shows. Some of these images are literally the only known color photographs of particular musicians, and they make vividly present an era that is usually mired in two-dimensional black and white. These were real people, playing music and having a ball, during the most colorful and vibrant era of West Coast country music.
These images have never been available to the public before now. Contact eccofonic@earthlink.net for media use. Our rates are flexible and reasonable. These images may not be reproduced without permission, and any violation of copyright will be prosecuted to the fullest extent of the law.
At the Phillip Morris Roadshow, possibly Houston, mid-1950s
The Phillip Morris Roadshow was a package tour of country stars put together by the tobacco company to promote tobacco products to music fans. Scotty Broyles attended one of the shows, and once again took some fantastic, one-of-a-kind color photographs.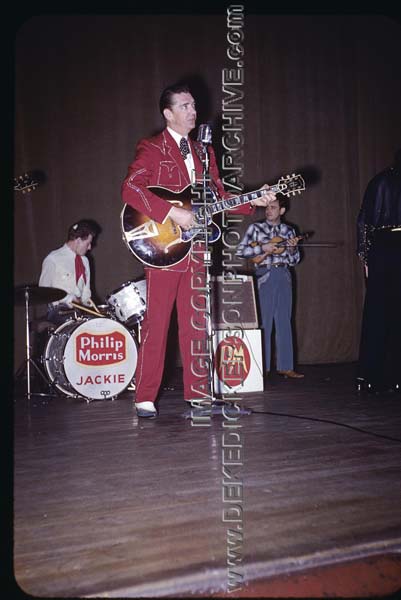 Carl Smith, one of the headliners [Key#CarlSmith2]
Country comedian the Duke of Paducah inspects his shoe during a routine [Key#DukePaducah]
Shirley Caddell Collie Nelson [Key#ShirleyCaddellCollieNelson]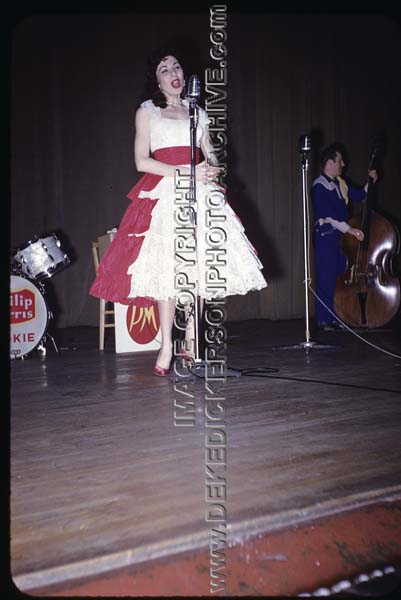 Mimi Roman [Key#MimiRoman]
Country music icon Red Sovine adjusts the mic stand [Key#RedSovine1]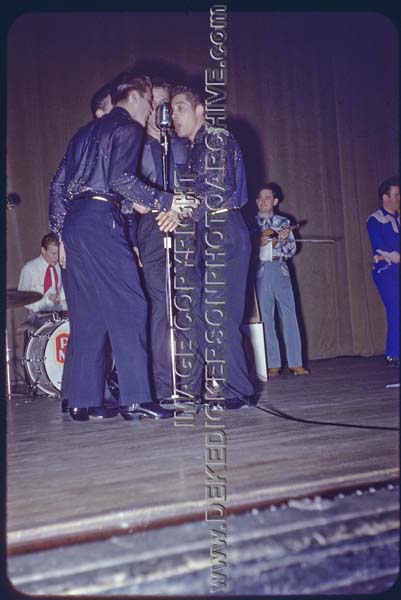 An unknown vocal quartet [Key#PhilipMorris2]
At the Louisiana Hayride in Shreveport, mid-1950s
While Scotty Broyles lived in Houston he would take occasional trips to Shreveport to see the Louisiana Hayride.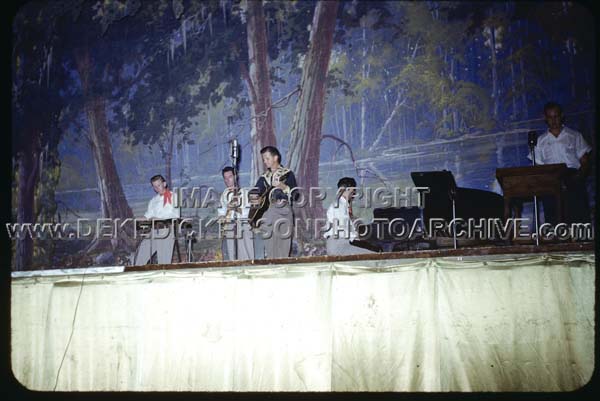 Red Sovine, with Jimmy Day on steel guitar [Key#RedSovine2]
Billy Walker, "The Tall Texan" [Key#BillyWalker]
Johnny Horton, of "Honky Tonk Man" and "Battle of New Orleans" fame [Key#JohnnyHorton]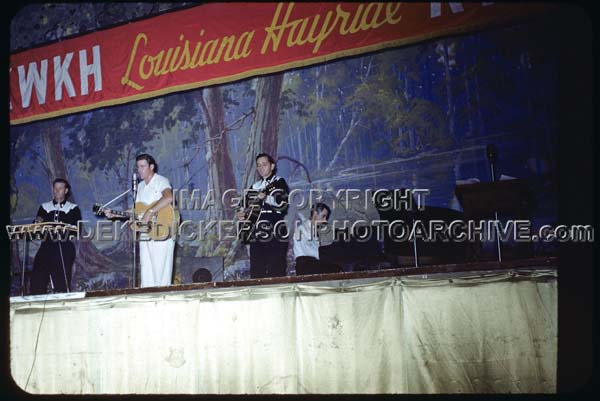 Slim Whitman [Key#SlimWhitman]
In Texas, various venues, mid-1950s
Prepubescent country and rockabilly singers the Belew Twins [Key#BelewTwins]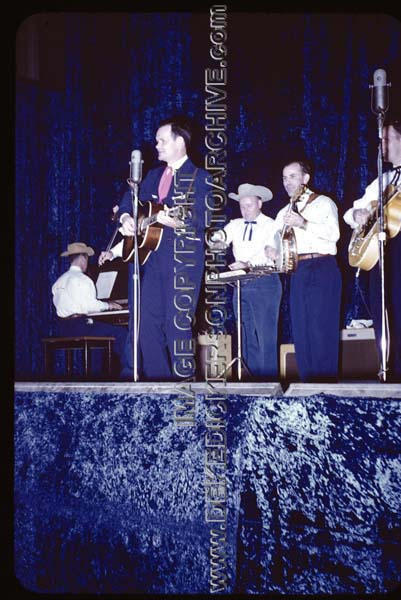 Hank Locklin [Key#HankLocklin1]
Homer and Jethro pose for a photo during a show. Note Homer Haynes's Stromberg Master 400 guitar. [Key#HomerJethro2]
The Maddox Brothers and Rose perform their wild stage act [Key#Maddox]
Sonny James live on stage [Key#SonnyJames]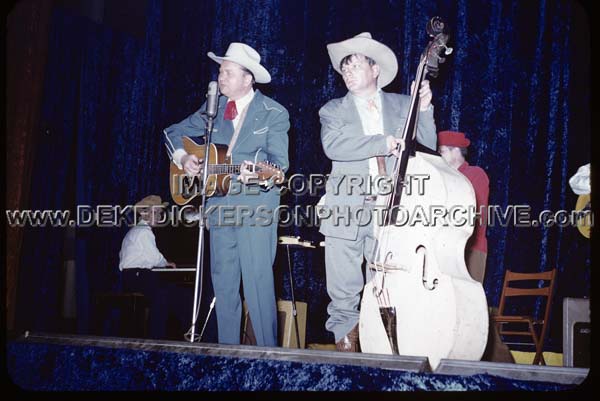 Tex Ritter live on stage playing a Bigsby acoustic guitar [Key#TexRitter3]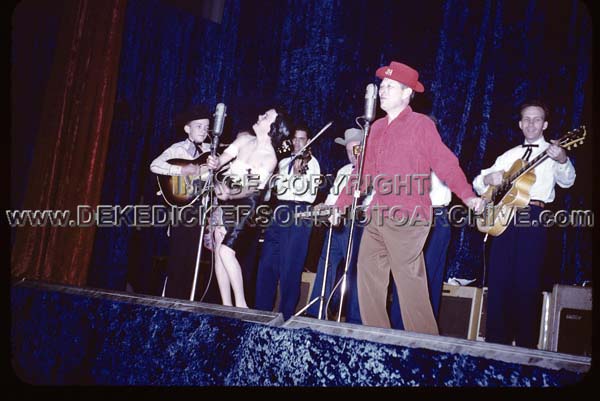 Big D Jamboree star Johnny Hicks live on stage [Key#JohnnyHicks]
Audrey Williams (Hank's ex) live on stage [Key#AudreyWilliams]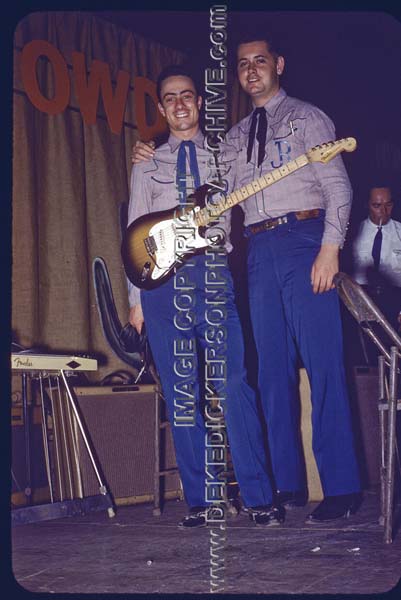 Leo Jackson (with the 1954 Fender Stratocaster) and steel player Bobby Garrett of Jim Reeves's band. Garrett is playing a Fender steel with Shot Jackson-customized pedals on it (the same guitar that Reeves kicked down the stairs once). [Key#Texas1]
Bobby Helms, of "Jingle Bell Rock," "Fraulein," and "Tennessee Rock and Roll" fame. Note cowhide-covered acoustic guitar. [Key#BobbyHelms]
Del Wood, piano-playing star of "Down Yonder" fame [Key#DelWood]
Hank Locklin strikes a pose. Tommy Hill is the rhythm guitarist. [Key#HankLocklin2]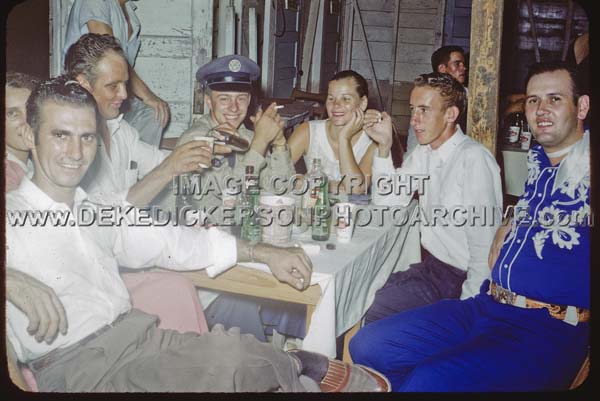 Jimmy C. Newman parties with some fans at a Texas roadhouse [Key#JimmyCNewman1]
Jimmy C. Newman parties with fans [Key#JimmyCNewman3]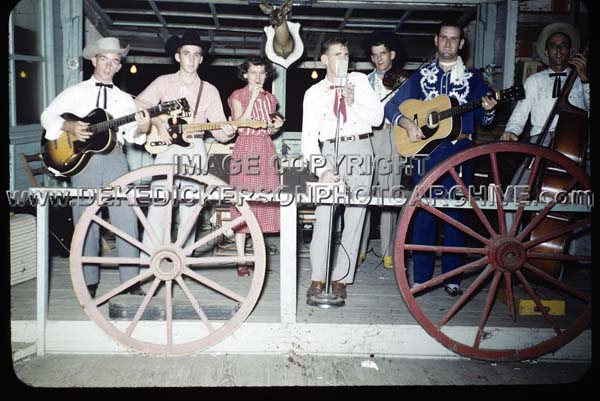 Smokey Stover's band with Jimmy C. Newman (in blue shirt) at a Texas roadhouse [Key#JimmyCNewman2]
Jim Reeves, of "He'll Have to Go" fame. Tommy Hill is the rhythm guitarist. [Key#JimReeves1]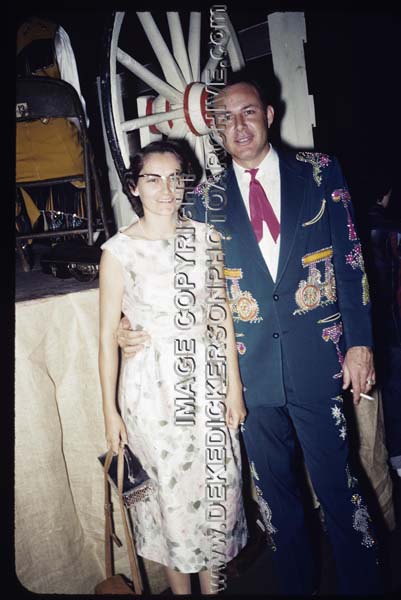 Jim Reeves backstage with Betty Broyles [Key#JimReeves2]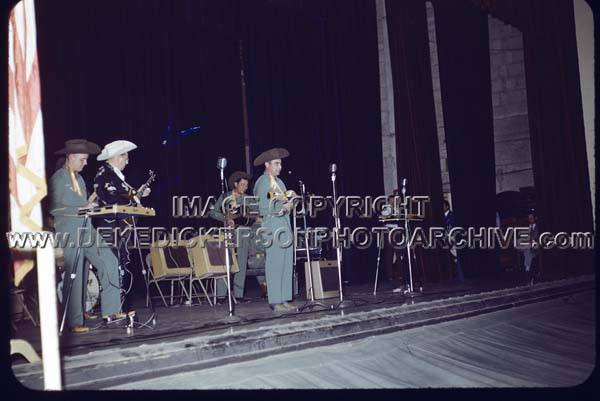 Jimmy Heap and the Melody Masters live on stage [Key#JimmyHeap]
Betty Broyles (in glasses and hat) at a roadhouse in Texas [Key#ScottyBettyBroyles]
Scotty's camera malfunctioned at a touring Grand Ol' Opry show in San Diego. He did get this one half-exposure of Red Foley performing, with Grady Martin playing his Bigsby doubleneck guitar and Billy Robinson playing his Bigsby lap steel guitar. This is the only known color photograph of Grady playing his Bigsby doubleneck. [Key#RedFoleyGradyMartin]
Later Photos
In the early 1960s Scotty and Betty Broyles relocated to the Pacific Northwest. The shots with the KFOX sign behind the stage were taken in California at a show sponsored by KFOX radio in Long Beach. Other shots were taken in Idaho or Spokane, Washington.
Country singer Billy Deaton live on stage [Key#BillyDeaton1]
Country singer Billy Deaton live on stage [Key#BillyDeaton2]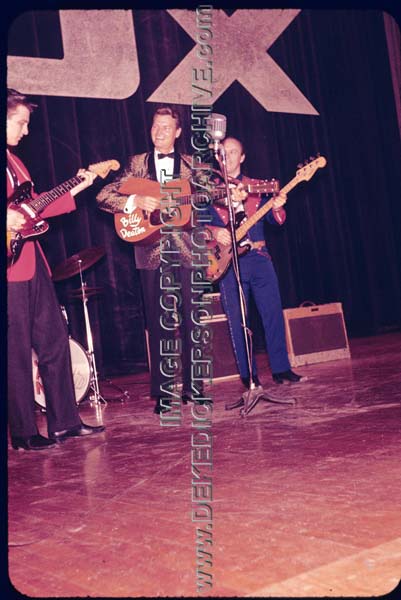 Country singer Billy Deaton live on stage [Key#BillyDeaton3]
Carl Smith live on stage [Key#CarlSmith3]
George Jones, "The Possum," with George Riddle singing harmony [Key#GeorgeJones]
Ray Price [Key#RayPrice3]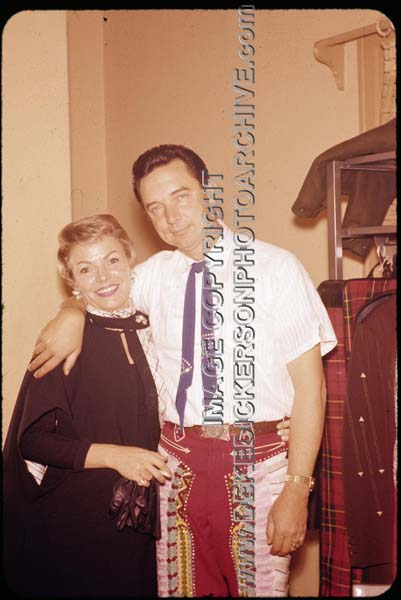 Ray Price backstage with fan [Key#RayPrice4]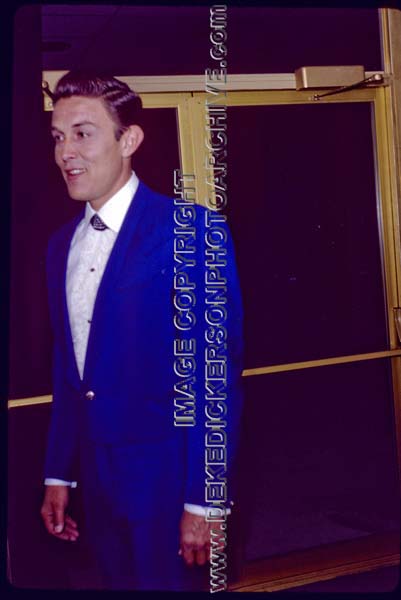 Jimmy Dean backstage in Spokane [Key#JimmyDean]
Red Sovine and Webb Pierce live on stage [Key#RedSovine3]