Deke Dickerson's Photo Archive: Link Wray
Guitar legend Link Wray, hugely influential in the decades after his 1958 instrumental hit "Rumble," developed a raunchy, distorted guitar sound refined from endless nights in smoky bars around his Washington, DC base. Guitarists from Pete Townsend to Jimmy Page cite Link's growling guitar tone as having inspired their hard rock and heavy metal riffs.
The Deke Dickerson Photo Archive has unearthed a rare find indeed: 12 never-before-seen photographs of Link Wray and the Raymen in action circa 1962-63! These unpublished photos show Link and his band, featuring Bobby Howard on second guitar, Shorty Horton on bass, and his brother Doug Wray on drums, tearing it up in the seedy dark alley lounges that they called home.
These images have never been available to the public before now. Contact eccofonic@earthlink.net for media use. Our rates are flexible and reasonable. These images may not be reproduced without permission, and any violation of copyright will be prosecuted to the fullest extent of the law.
LINK WRAY 1: A clear shot of Link Wray singing and playing circa May 1962. Here he is playing his Supro Dual Tone guitar, one of several trademark guitars in Link's career. Note the water damaged roof in the background!

LINK WRAY 2: A great shot of the Raymen's teenage guitarist Bobby Howard, aka "The Kid," "Mordachai Jones," etc. Bobby is seen here playing a 1950s Gibson Flying V, now one of the most valuable guitars on earth. Photo dated May 1962.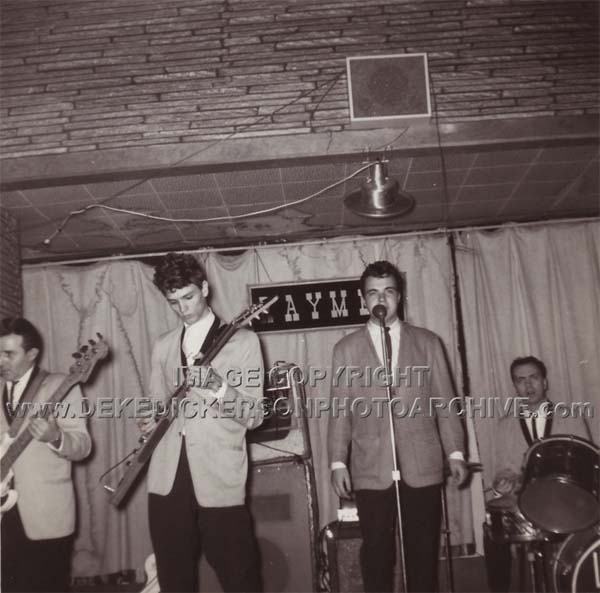 LINK WRAY 3: Chuck Bennett (real name: Charles Avery) backed by the Raymen. Bobby Howard on the Flying V guitar, Shorty Horton on bass, Doug Wray on drums. Photo dated May 1962.

LINK WRAY 4: A fantastic shot of Link dated May 1963. Smoke wafts through the dimly lit nightclub while Link tears it up on his newly acquired Gibson Byrdland guitar. Note the great hand-painted signs behind the band, along with numerous copies of the incredibly rare "Great Guitar Hits" album scattered about.

LINK WRAY 5: Another super shot of Link from the same evening in May 1963. Pictures of him playing this Gibson Byrdland guitar are rare; we have only seen one other shot with this instrument. Link only used it for a short time before he switched to a Gibson Firebird.

LINK WRAY 6: Another photo from May 1963, at a different venue. Link is playing the Gibson Byrdland guitar, note the Premier Reverb unit in the background. The guy behind him is Max Navarro.

LINK WRAY 7: Link Wray and the Raymen, May 1963. Link, Chuck Bennett (real name: Charles Avery), Shorty Horton, Doug Wray.

LINK WRAY 8: Shorty Horton takes a turn at the microphone while Link (left) backs him up. Note Shorty's incredibly rare late-1950s Fender Precision bass with gold anodized pickguard.

LINK WRAY 9: Chuck Bennett (real name: Charles Avery) takes a turn while Link, Shorty, and Doug back him up.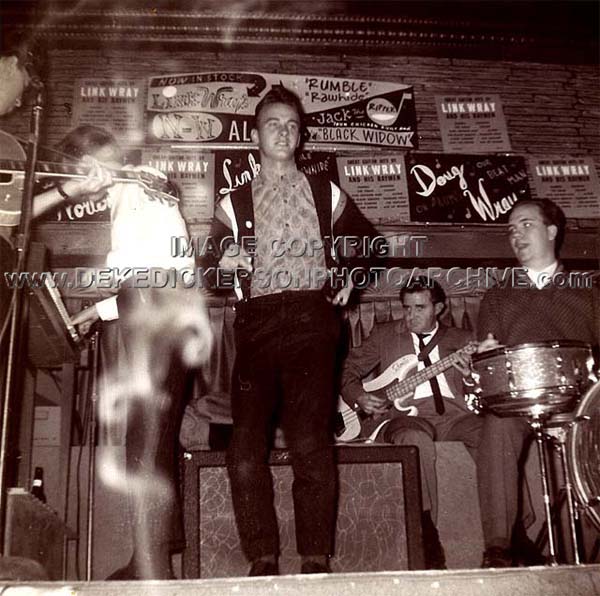 LINK WRAY 10: An unknown vocalist does some dance steps while Link and the boys back him up.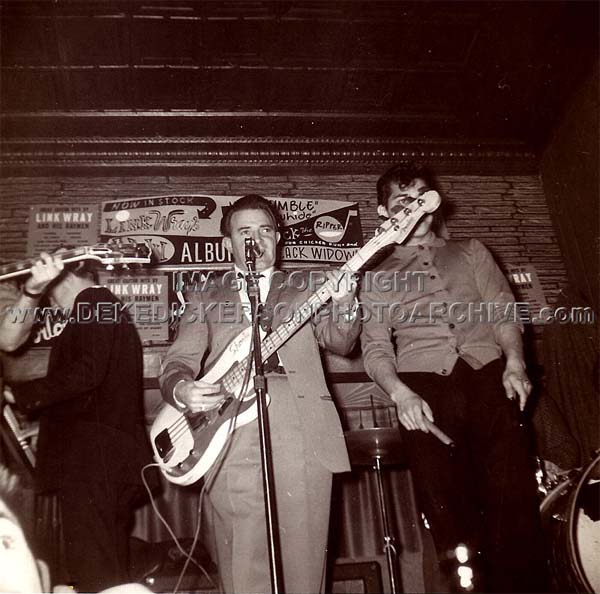 LINK WRAY 11: Shorty Horton once again steps up to the mike. Note the great hand-painted sign behind the band!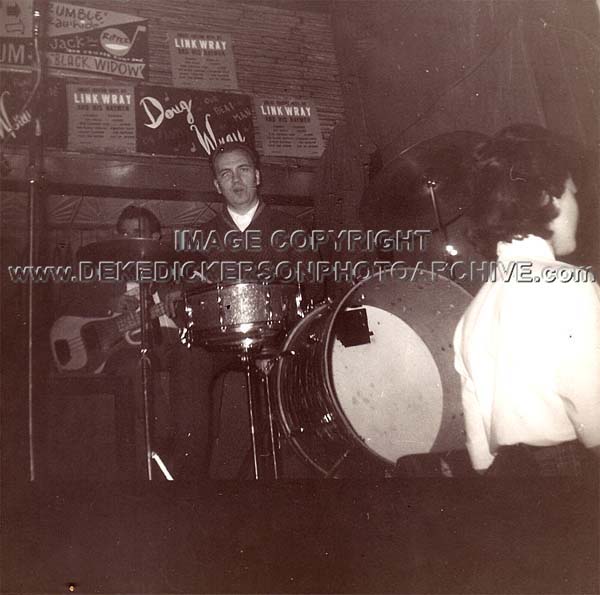 LINK WRAY 12: The late, great Doug Wray, drummer of the Raymen and secret weapon on so many great Link Wray records.