Well, the exciting news is that I will be playing with Kyle Eldridge tonight at the Western Swingout in Tehachapi! He asked me to play rhythm guitar for him and I jumped at the chance. It's not too late for you to jump in your car and go—tonight's lineup is pretty stellar, with Carolyn Sills Combo, Kyle and the Rhythm Rounders, Dave Stuckey and his Western Swing band, and Shaun Young.
I never get to do rhythm guitar gigs, so of course I started thinking about what guitar to bring. Then Kyle told me that he is also playing lead guitar for Dave Stuckey's set. That's when I realized this would be a perfect opportunity to take out my two original Bob Wills guitars. I never take them out to gigs, but this seemed like a good excuse to do it.
One guitar is a 1942 Epiphone Emperor that was used in Bob Wills and the Texas Playboys by two of his most famous guitarists, Jimmy Wyble and Junior Barnard. Wyble used the blonde archtop guitar (with a DeArmond floating pickup) on many of the Texas Playboys' best-known mid-1940s recordings, including "Roly Poly" and "Stay a Little Longer." When Wyble left the band in 1945, his replacement, Lester "Junior" Barnard, inherited the guitar. Junior used the guitar during his short but memorable tenure in the Texas Playboys, playing some of the hottest, rawest, and most exciting electric guitar solos ever heard. In fact, most people's reaction to hearing Junior Barnard's playing in 1945–47 is "Wow, that sounds like ROCK 'N' ROLL!" Junior used this guitar on his signature tune, "Fat Boy Rag," and also the amazing Tiffany Transcriptions recordings, made for radio audiences in the 1940s and reissued in recent years.
What makes Junior Barnard's Epiphone Emperor (pictured immediately below) particularly important and interesting is that Leo Fender personally modified this guitar in 1947. During this time period, Leo Fender was launching his new Fender guitar and amplifier company, and Bob Wills and the Texas Playboys were his star endorsers, playing custom-made Fender amplifiers and some of the earliest Fender steel guitars. Leo added a K&F lap steel pickup, along with a volume and tone control plate with knurled knobs, to Junior's guitar. Why is that significant? This guitar, Junior's guitar, was the guitar where Leo worked out all the ideas for what would eventually become the Fender Telecaster. It would take Junior's experimental guitar and then seeing Merle Travis's solidbody Bigsby guitar in 1948 before Leo came out with his first prototype solidbody guitar in 1949 and the first production-model two-pickup "Esquire" in 1950. But Junior's guitar, effectively, is the prototype for the Fender Telecaster. Ever wonder why the Telecaster has that odd neck pickup with the shiny cover and no pole pieces? It's because Leo was trying to copy the DeArmond floating pickup on Junior's guitar. Ever wonder why the Telecaster has the treble pickup and bridge setup it has? It's basically a redesigned version of the lap steel pickup on Junior's guitar, complete with the same knurled knob volume and tone control plate, much refined.
The Jimmy Wyble/Junior Barnard DeArmond floating pickup:
Junior Barnard died in a car crash in Fresno in 1951. This guitar was played HARD for less than ten years, then after Junior's death, it was put in a closet, where it sat for nearly seventy years before I tracked it down and bought it in 2018. For those who know, they KNOW—holy freaking cow, it's Junior Barnard's guitar! (Thanks again to John Munnerlyn for restoring the K&F lap steel pickup.)
The other Bob Wills guitar I own belonged to Jimmie Widener, a talented singer, rhythm guitar player, and banjo player. Jimmie played with Wills during the 1940s and early 1950s. The guitar is another 1940s Epiphone Emperor archtop, fitted with a DeArmond floating pickup. That's Jimmie Widener you hear singing harmonies on the original version of "Faded Love." Widener also sang lead on a few Bob Wills singles and cut a bunch of great records under his own name. He was also known as one of Hollywood's best rhythm guitar players, and he played this guitar (given to him by Bob Wills when he left the band) on recordings by Spade Cooley, Merle Travis, The Whippoorwhills, Speedy West and Jimmy Bryant, and many more.
Believe it or not (this knocked me over when I discovered this photo), this guitar was even used on stage when Hank Williams Sr. played the Riverside Rancho in Los Angeles in April 1952. Wow!
The story of how I found this guitar is told in my book The Strat In The Attic. Big thanks to Curtis Novak for hipping me to the guitar (for sale in a mobile home park outside Salem, Oregon), and for Guy Valic for his excellent restoration, which was extensive. It's so beautiful now, and it really has that feel of a guitar that was played for 30,000 hours. It's as comfortable as an old shoe.
I was super excited to get these guitars out and play them at the Western Swingout. Imagine my horror when I dug them out of their cases a couple days ago and discovered that both were unusable, due to the ancient wiring in the DeArmond pickups disintegrating. They buzzed, howled, and were intermittent. It was time to do some last-minute guitar surgery to make them playable (don't worry, I saved the original wire in a little bag in the case pocket—because you have to, right?).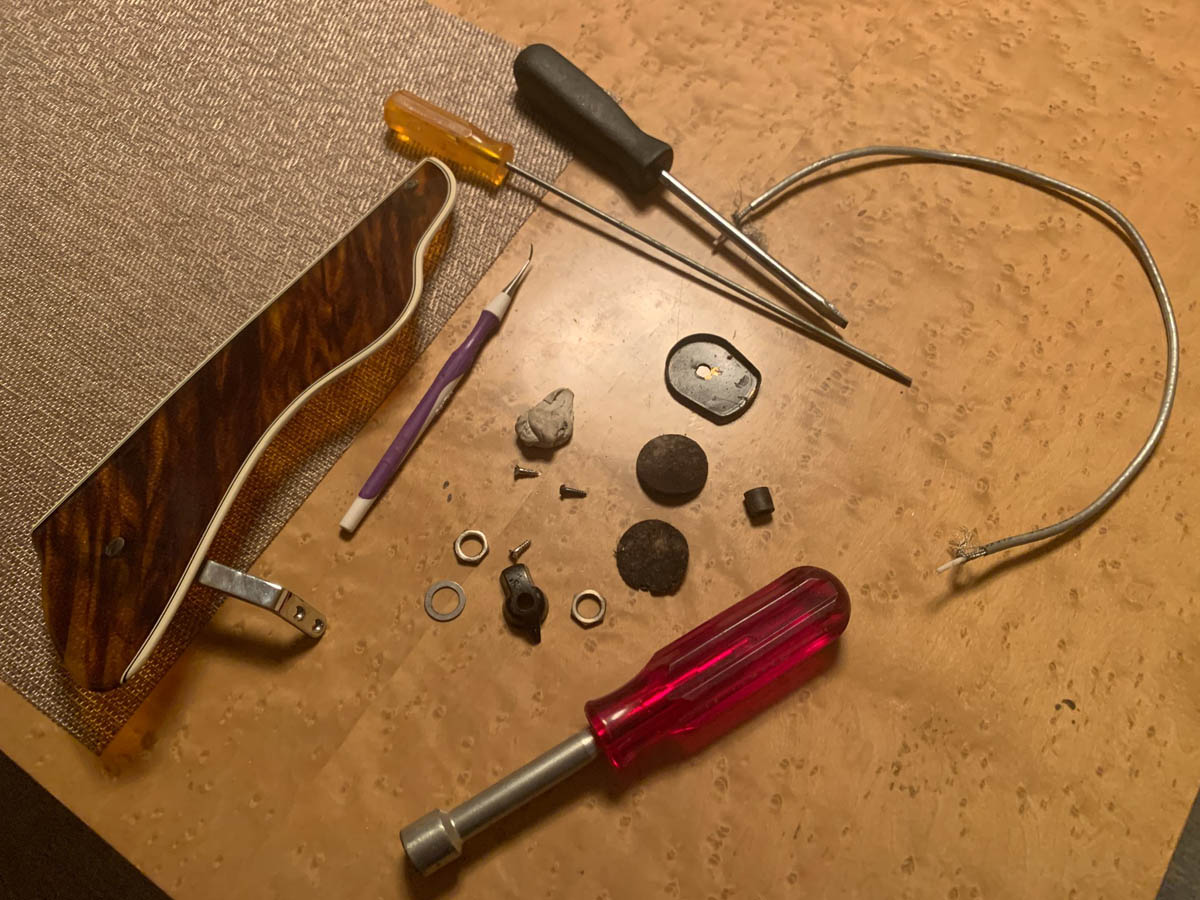 I found some NOS shielded wire in my NBC stash that was really similar to the original cable. It was silver, not black, which really bothered me for a minute, until I remembered that Paul Bigsby used the same silver shielded wire for his guitar cables. I thought to myself, "totally appropriate." At least for now.
The Jimmie Widener guitar was pretty easy to fix, especially since I had already repaired the original pickup cable a few times. The new cable worked great, and was SO much quieter—less hum and buzz. It works great!
The Junior Barnard guitar was so primitive when I opened it up that I kept thinking, "Is this some of Leo Fender's earliest soldering? Because it's TERRIBLE!" More than likely, Junior or one of his buddies did it at 2 am some night in a barn on the road. Some of the soldering looked like a caveman did it with one of those giant baseball-bat-size soldering irons. The wire going to the output jack was interesting because I don't even think it was soldered on—the wires were crudely wrapped around the tabs on the output jack (instead of threaded through the hole!), and there was a big glob of something on there that absolutely would NOT melt from my soldering iron. Silver? Lead? I have no idea what it was, but my iron couldn't melt it. I found another identical jack in my stash and used that for the replacement wiring. Below, Junior's original caveman jack, left, and a new old stock identical jack, right. I'm not sure what they used to connect the wires on Junior's guitar, but my soldering iron wouldn't melt it. I had to clip the wires.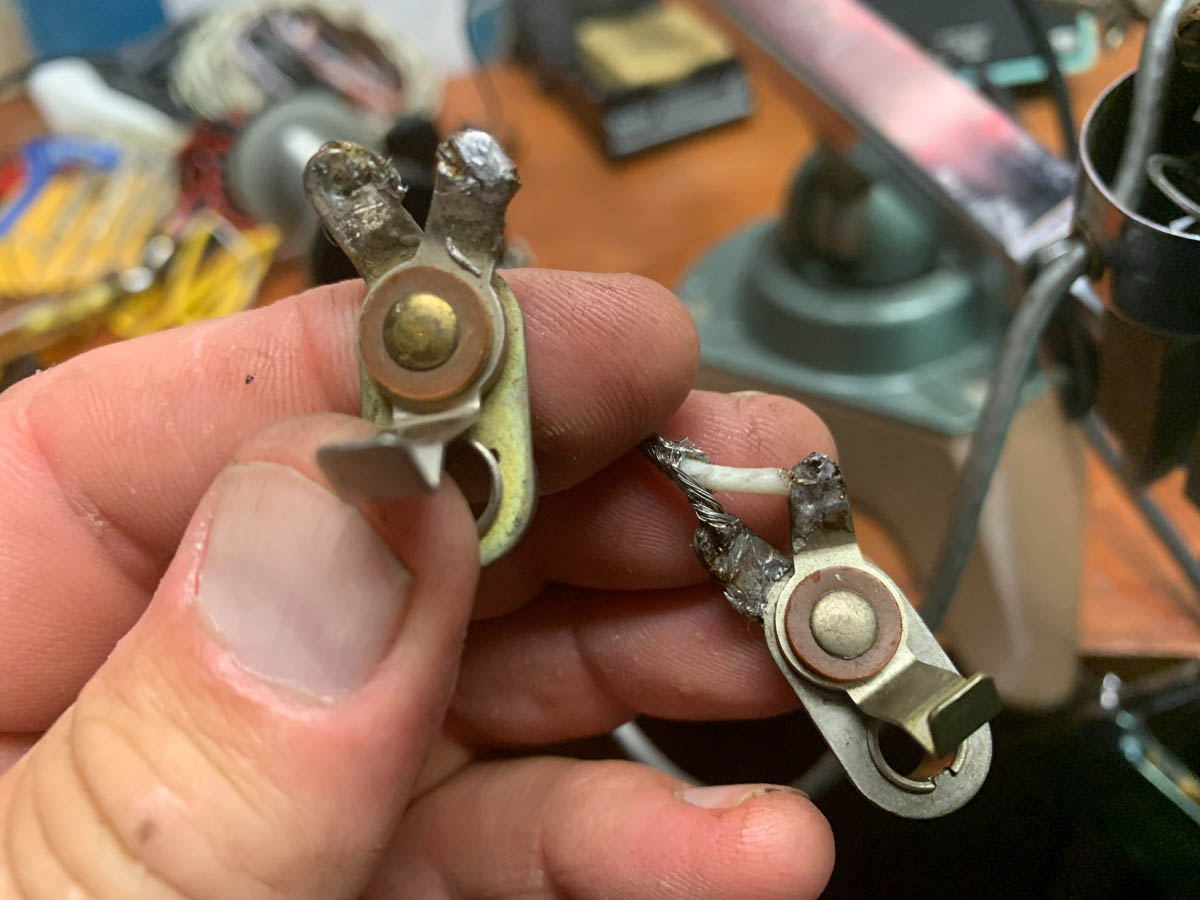 Around 1 am last night, while the rest of you were out dancing and partying (or sleeping), I finished surgery on the Junior Barnard guitar. It works great and sounds MAGIC. (For those of you who geek out on such things, Junior's guitar has two output jacks—one for each pickup.) Hopefully my somewhat limited soldering skills will hold up tonight at the show. I can't wait to hear Kyle playing Junior's guitar in Dave Stuckey's set!
See you tonight at the Western Swingout in Tehachapi! I can't wait to see all my pals and listen to some great Western swing music!