Last night at Dave's Guitar Shop, I had the pleasure (!?!) of seeing Jimmy Gross's modified Fender Jaguar. (Thanks to Laun Braithwaite from Dave's, who is playing rhythm guitar in the Tinglers, and Karl B Wallin for making this available to me). Who was Jimmy Gross? If you are into Rickenbacker Guitars at all, he was the guy that invented the weird "convertible" gadget found on a few mid-1960s Rickenbackers that allowed you to convert your twelve-string guitar to a six-string guitar. It was a cumbersome device that used a comb-type sliding hinge to pull six strings back and mute them, but it did work well, and Gross had a patent for it.
This personal guitar of his, well, I really don't know where to begin. Yes, it started out as a Fender Jaguar, but it has been boogered like no other guitar I've ever seen. It's hard to know where to begin, from the micro-frets Calibrato vibrato to the hand-welded bridge, the many additions to the pickups, the fingerboard extension to allow bass strings hanging off the edge like a harp guitar, to the 1980s-era computer interface connector. This thing is a cornucopia of hurt. I'm leaving out about forty things because there's just not enough space here to discuss all the damage that was done to this guitar. Just study the pictures closely, but be careful, because you might start to feel nauseous.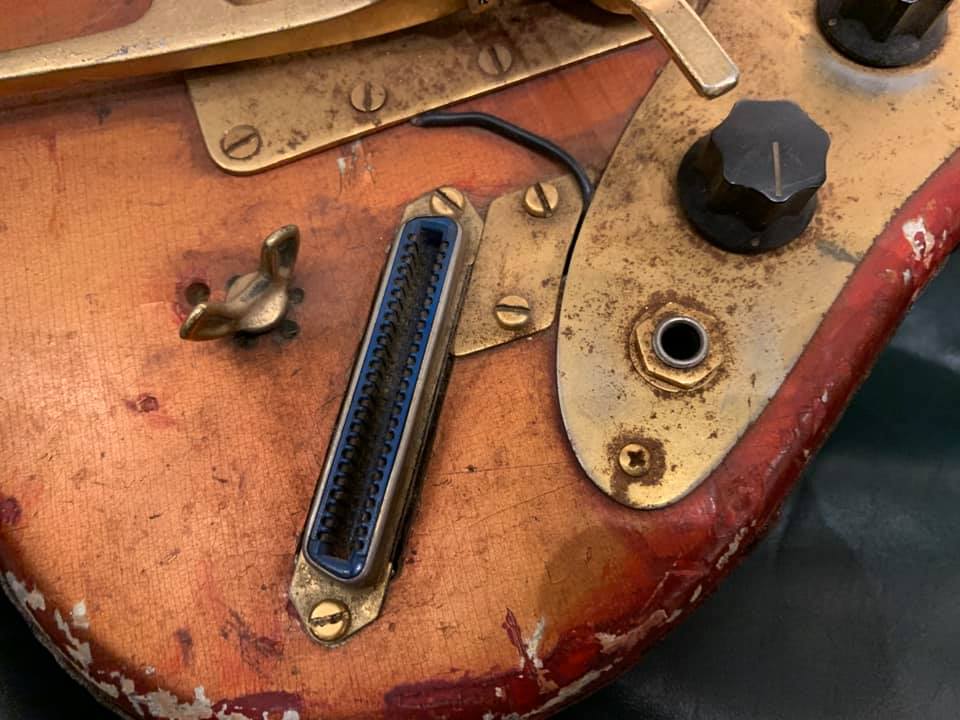 Besides his small claim to fame in vintage guitar history, Gross was also an entertainer. And that's where this starts to get crazy. Looking through the folder of original paperwork that came with this guitar (Dave also has Jimmy Gross's Rickenbacker with the convertible comb installed), Jimmy was mostly a banjo player. Or, I should say, he was mostly an entertainer who also played banjo. And of course, in the 1980s, it got really weird as he added a robot to his act, as far as I know the only banjo robot act in history.
The things that I find most entertaining in this whole batch of stuff are Jimmy's flyers he would send out to places he wanted to play describing his act. You can tell from Jimmy's "Scenario of 1/2 hour SUPERSHOW" that he thought he was putting on the greatest concerts in history. You really should read the full flyers I've posted below, but his shows would include a banjo that "glows red hot during hot banjo tune" that finished the song by exploding; a doubleneck banjo act; a Moog-synthesizer banjo; an electric jug played by his wife that changed her voice into four-part harmony, and a segment of the show where the robot goes "entirely berserk" and explodes. Come on, I want to see THAT show! Read the flyers to see the full list of things Jimmy would do—in a 30 MINUTE show!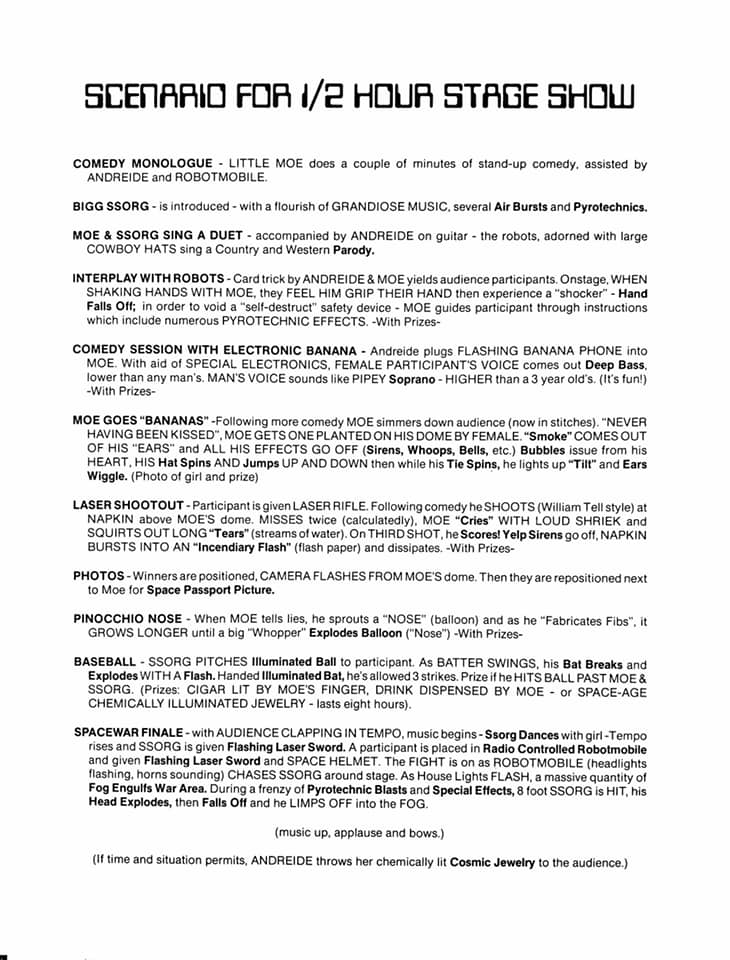 I'm really glad that I got to see this guitar. Obviously, the guitar itself is one small part of a much bigger story. Most people looking at the guitar would run away in horror, thinking about how much money that Fender Jaguar would have been worth if it were left in original condition. I love those bizarro custom instruments, though, that have a million stories buried inside them. I have a feeling this one might have two million stories.