Deke Dickerson's Photo Archive: Hank Williams
Scotty Broyles (another photographer featured in this archive) was a Texas-born mandolin player who was in the Navy, stationed in Texas, in the early 1950s. His wife, Betty Broyles, took these photos of Hank Williams live in Dallas circa January 1951.
These images have never been available to the public before now. Contact eccofonic@earthlink.net for media use. Our rates are flexible and reasonable. These images may not be reproduced without permission, and any violation of copyright will be prosecuted to the fullest extent of the law.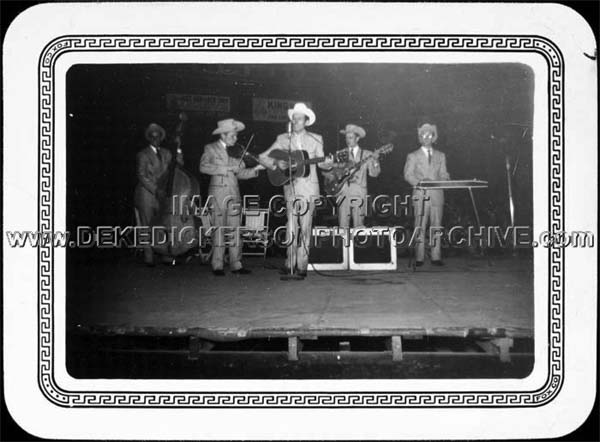 Caption: You know who this is. I think he was playing "They'll Never Take Her Love from Me." Have nice-looking uniforms, don't they? The boys' are tan check and Hank's is blue check. [Key#HankWilliams1]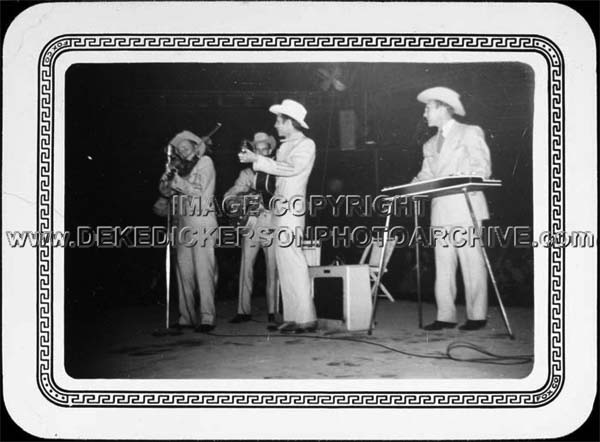 Caption: Little Jerry Rivers playing "Orange Blossom Special" [Key#HankWilliams2]
Caption: This is Hank and his boys. He was singing "Lovesick Blues." And of course Little Jerry Rivers. The boy playing the steel is wearing glasses, his eyes aren't really that big. The boy playing the electric guitar still plays as if it were no effort or strain on him. [Key#HankWilliams3]