Today was the best day! I engaged in my favorite activities: avoiding responsibility and taking the least-traveled roads I could find. Multiple hours were spent driving rural two-lane Florida roads, looking for weird old places, historic landmarks, and other things that have survived the decades. Florida is one of my favorite states. It's just . . . weird. Weird to the core. Maybe the weirdest state in the union. They've done their best to put Starbucks and Walmarts everywhere, but they can't kill that Florida weirdness. You all know this; just google "Florida Man." This weirdness is encouraged down here. It's almost like a crop that they grow.
I just got in my rental car and drove, with the only rule that I wasn't going to get on an interstate.
I stopped at a train museum that wasn't open, but there was a guy there hanging out, a Portuguese guy named Luis, who started telling me filthy jokes right after he told me the museum was closed, and we traded dirty jokes for half an hour until I realized that Luis would literally keep me there all night If I didn't get back in the car and go. "I don't know you, but now you're my friend," he said. I guess I can hold my own in a filthy-joke competition.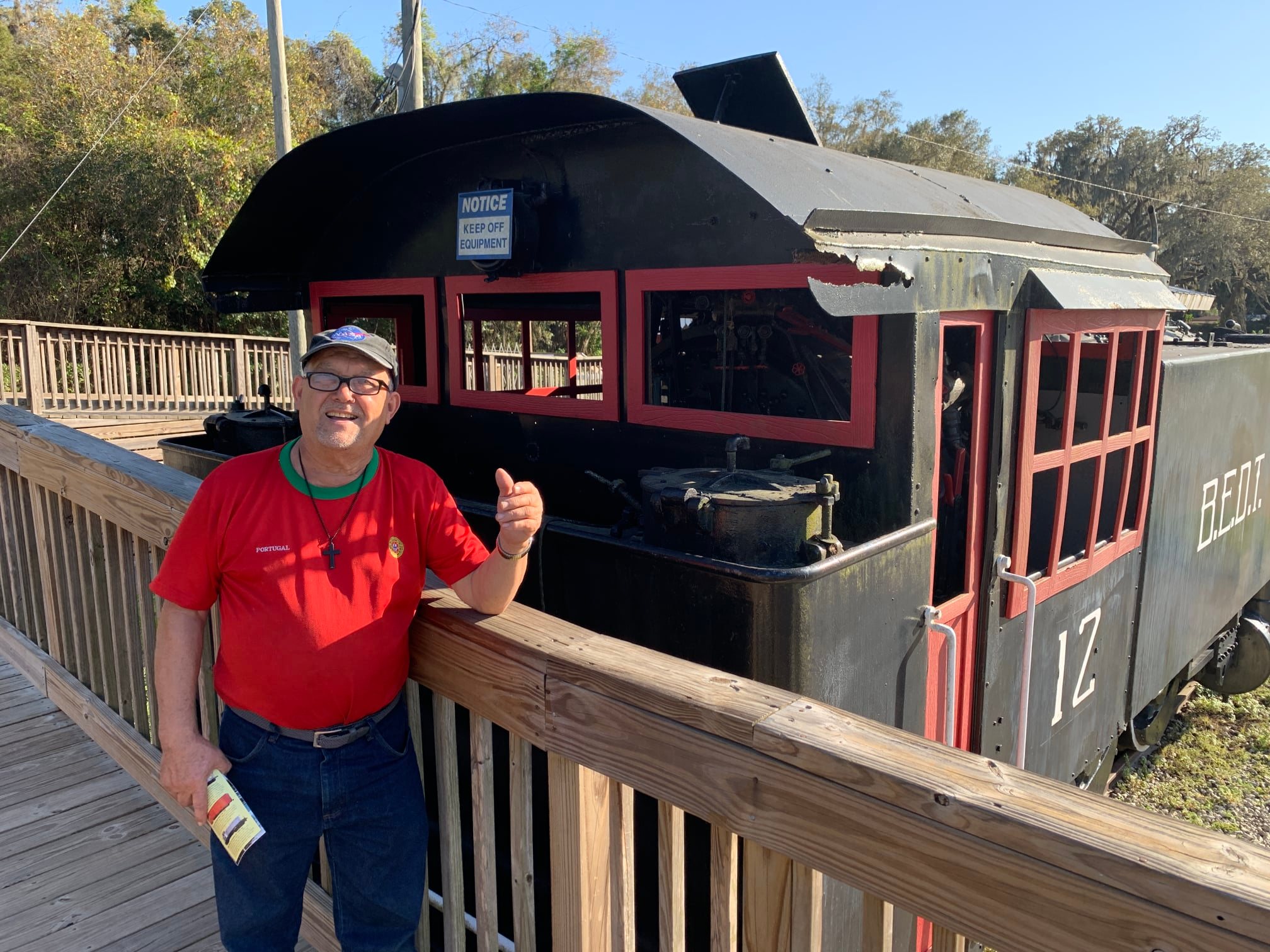 My favorite stop today was the town of Bartow, out in the middle of nowhere somewhere vaguely between Tampa and Orlando. Bartow is where Charlie Smith, "America's Oldest Man," is buried. Charlie claimed to have been born into slavery in 1842 and died in 1979, which would make him 137 years old at the time of his passing. I sure love wandering around old cemeteries, and I'm not sure why. I just feel at peace.
Just down the street in Bartow, in the fancy neighborhood, is a really amazing 1920s mansion called the Wonder House. I didn;t get the inside tour, but apparently the place contains a bathtub big enough to fit an elephant, and was built with concrete and steel beams on top of bedrock. The house was open as a tourist attraction from 1934 to 1963, then was abandoned and left to ruin for decades. Recently a couple bought it and have been restoring it. It was really amazing, just about as Southern and Gothic and mysterious and weird as it gets. Check out the link to their website, some great old photos of the place from back in the day!
I stopped for gas at a place out in the middle of nowhere, and a guy pulled up to the gas pump next to mine in one of those ATVs you see survivalist guys driving around in remote places. He was shirtless and had one metal prosthetic leg and began to whistle a near-perfect, spot-on version of "Listen to the Mockingbird" while he pumped his gas. Man, I wanted to get a video of him, but I could tell that if I tried, he would have thought I was part of whatever conspiracy theory he was researching on YouTube that week. I probably wouldn't have survived.
I hit up a couple of antique places, but everything's overpriced now. I love old junk, but cheap thrills were always the buzz for me. I just don't get the same buzz paying full retail for stuff. I didn't buy a thing.
The sun went down and I played Hank Williams real loud, barreling down a dark two-lane road with moss-covered trees hanging low. It was fabulous.
I drove through Winter Haven just in time to see Andy's Igloo turn on their neon sign. Is there anything better than seeing an old neon sign get turned on at dusk?
It was one of those days I didn't want to end. Who knows how many days like this you get in your life, completely unfettered, free as the breeze? I don't know how many I have left, but I savor them now, like some kind of exotic candy. My girl Sally Jo is a great traveling buddy and we have lots of fun on the road, but I also really enjoy these days completely alone with my thoughts. Or, more accurately, alone with NO thoughts—just a jackass looking for barbecue joints, old records, and neon signs, listening to Hank Williams on a road to nowhere. It was a great day.