Well, now that I've recovered from this weekend, let me say it: Saturday night in El Cajon was a night for the books! I was as shocked as anyone to see the legendary Bostonia Ballroom (one of the major West Coast music venues of the 1940s, 1950s and 1960s) open up for a night of Western swing, rockabilly and honky-tonk music. I was even more shocked when I got there to find the place was SOLD OUT, and filled with around 500 people, all dressed up in Western wear, everybody smiling, ready to have a good time! The event was publicized in local newspapers and brought out a lot of people who went to the Bostonia back in the day. There were a few dozen people who drove hundreds of miles to attend the event! Local collector Tom Sims had Nudie suits and photo albums and memorabilia on display in the lobby. Everybody seemed excited to be a part of something special like this. Nights like these are really rare and somewhat magical.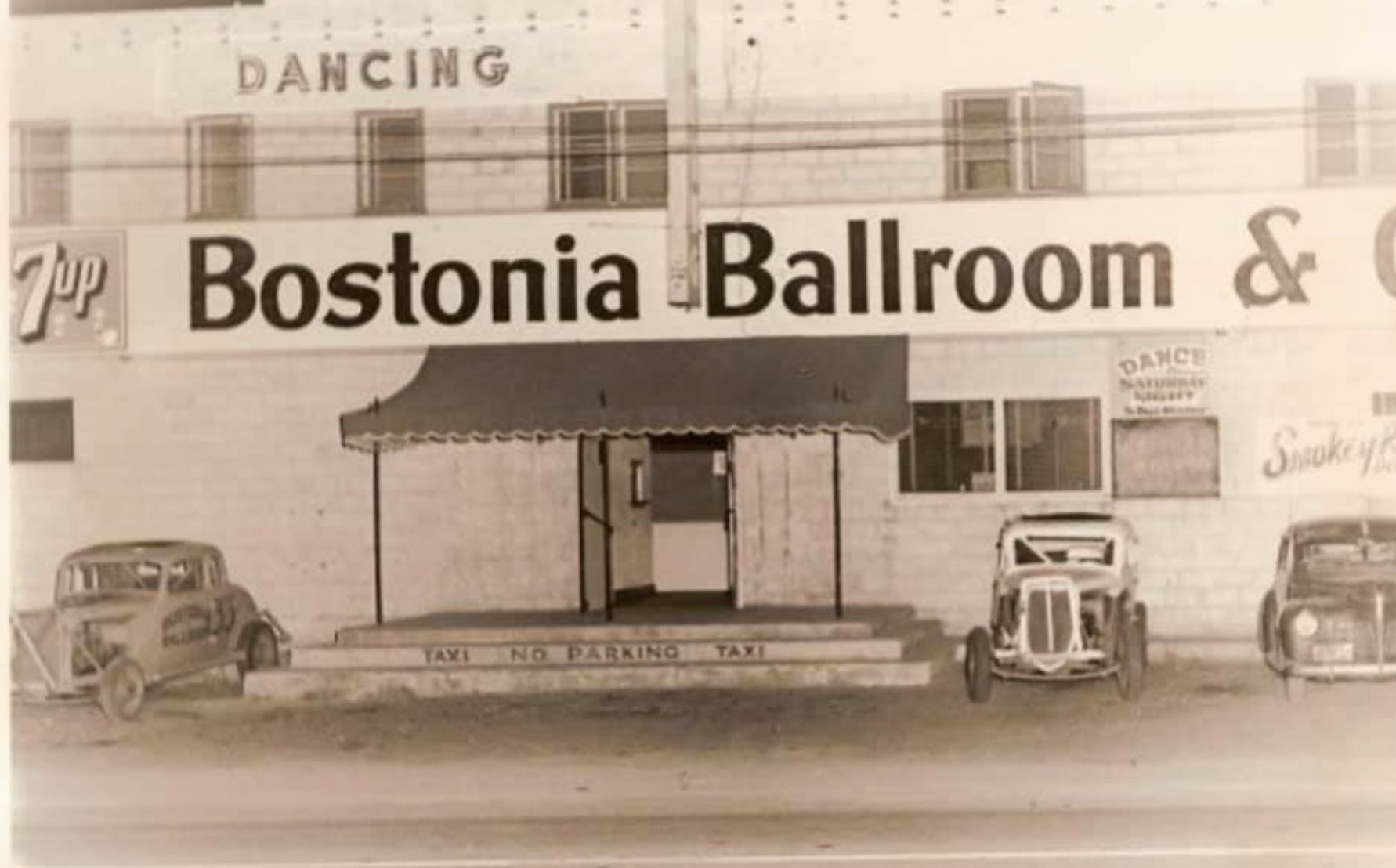 All the bands played great sets and got great audience reaction. The Sea Monks, West of Texas, and Mitch Polzak got the crowd excited and kept the dance floor full. I wandered around, amazed at what I was seeing. Even though the place had been remodeled a bunch of times over the decades, it was pretty incredible to hear this music happening in the same room where so many legends had played back in the day. Bob Wills, Lefty Frizzell, Patsy Cline, Jerry Lee Lewis, Hank Thompson, Willie Nelson, George Jones, Buck Owens, Merle Haggard, and a thousand more. It was hard to wrap your head around!
We took the stage with the "Bostonia All-Star Western Swing Band" and the dancers immediately filled the dance floor from the first few bars. What a band it was! I was proud to be fronting such a group. Dave Stuckey on drums, also singing a batch of songs. Brent Harding (you know him from Social Distortion), playing bass and singing harmonies. Tommy Harkenrider playing tons of bluesy swing licks on a 1946 Gibson ES-300 originally owned by Smilin' Johnny Weis, who played in Smokey Rogers's house band at the Bostonia back in the day. Benny Brydern, a phenomenal fiddler, kicked all the Bob Wills songs into overdrive. Russ Blake played incredible steel guitar on Speedy West's original 1948 Bigsby pedal steel guitar.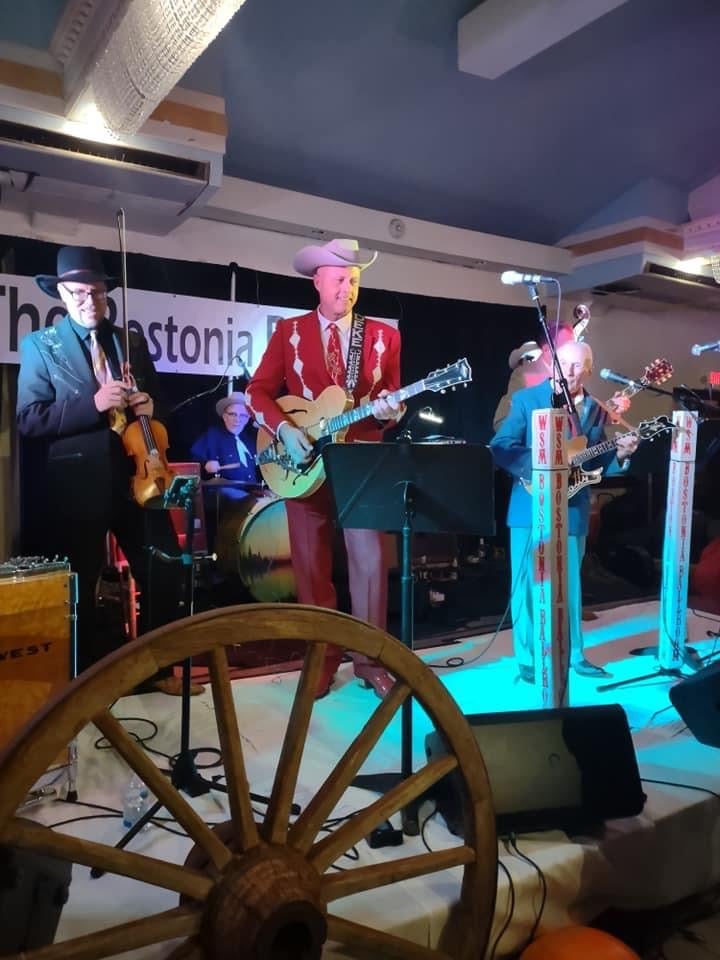 Scotty Broyles, our 93-old mandolin-playing VIP from Ridgecrest, brought his original 1952 Jim Harvey mandolin (custom made in the San Diego era back in the day). It was especially incredible to have Scotty in the band, because when he was a young kid stationed in the Navy in the early 1950s, he took a batch of amazing color photos of many of the stars that played at the Bostonia—some of the best documentation of the place's glory days (one of the photos Scotty took of the Bostonia, of a kneeling Merle Travis holding his Bigsby electric guitar, will be featured on the cover of my upcoming Merle Travis biography, to be released in May 2022 through BMG books). The fact that we had Scotty there playing with us, 69 years later, was nothing short of mind-blowing! (Thanks again to Scotty's daughter Jamie for driving him down to San Diego for the event.)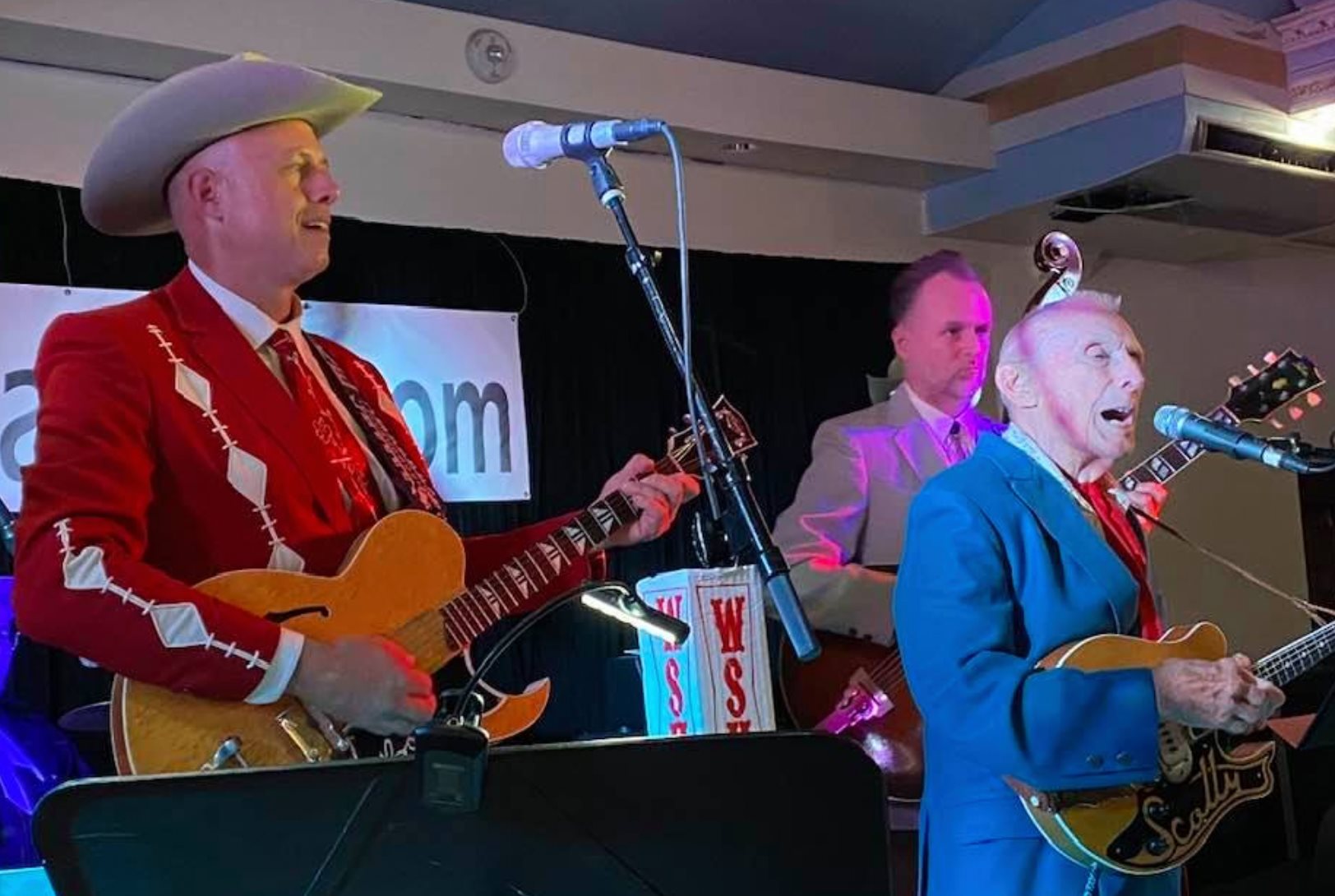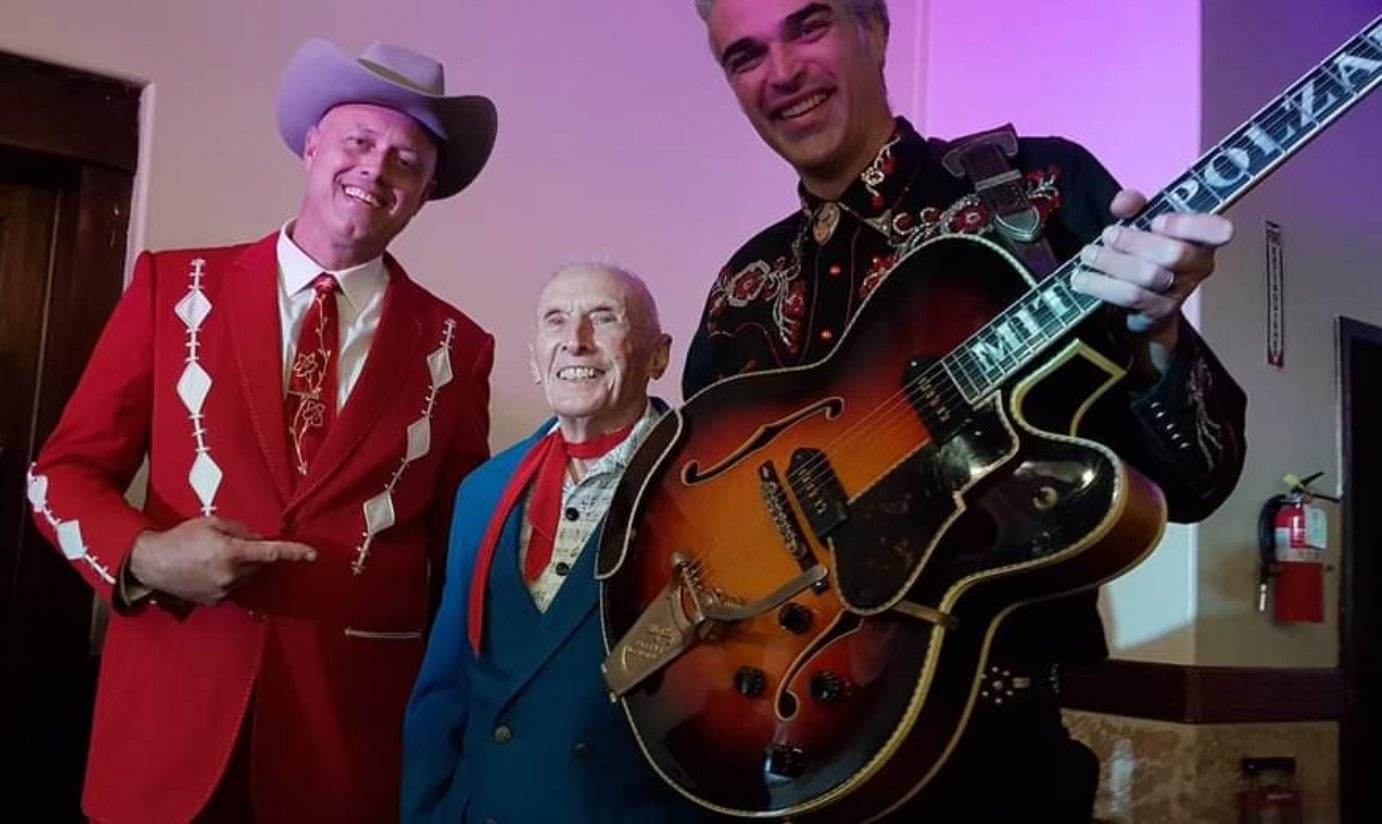 It's always a gas to have a nonagenarian in your band. Best quote of the night, when my girlfriend Sally Jo saw Scotty all dressed up in his blue suit, Sally said "Scotty, you look great!" Scotty's response: "COMPARED TO WHAT?"
I've played thousands of gigs in my life, but very few like the show at the Bostonia on Saturday night. Everybody was just so damn happy! It was like shooting fish in a barrel with this crowd, they were just there to savor the moment. Every song we played, from Western swing standards like "San Antonio Rose" and "Miss Molly" to specially curated numbers like "Carry Me Back to Tucumcari" (originally performed by Smokey Rogers, who led the house band at the Bostonia back in the day) and "Speedin' West" (a Speedy West instrumental, brought to life on Speedy's original steel guitar) brought cheers from the large crowd. When a group of knuckleheads at the front of the stage began enthusiastically lighting up cigarettes and smoking during our performance of Tex Williams's "Smoke Smoke Smoke (that Cigarette)," even I couldn't get upset. It was utterly moronic, but it was also hilarious and in the spirit of the moment. For a brief moment, we all had not a care in the world.
Huge thanks go to Christopher Burkhardt from Stellar Shows and local impresario Garrett Wear for making this show happen. OH! I can't forget Rosalea Schiavone, who was a big part of the evening's success. Nights like this don't happen by themselves, their tireless enthusiasm and efforts to publicize the event made it all come together.
At the end of the night I had a conversation with the owner of the building. The place has been sold and the new owners will be taking over in January. It's hard to say if another event like this will ever happen in the room, but he did tell me the new owners plan to keep the place running as a ballroom, luckily avoiding the condominium wrecking ball for the time being. It would be great if there can be future events at the Bostonia; it really was a magical evening! Here are some photos that I swiped from a bunch of folks on social media—thanks to all of you for documenting the evening. I'm still buzzing, it was a great time!